Describing someone as "trendy" is often a disparaging remark. Merriam-Webster defines trendy as "very fashonable; up to date," and a trend as "a current style or preference." According to these definitions I could say that everyone is at least a little trendy. Miranda Priestly said it best in "The Devil Wears Prada": "You go to your closet and you select...I don't know...that lumpy blue sweater because you're trying to tell the world that you take yourself too seriously to care about what you put on your back. But what you don't know is that that sweater is not just blue, it's not turquoise. It's not lapis. It's actually cerulean. And you're also blithely unaware of the fact that in 2002, Oscar de la Renta did a collection of cerulean gowns. And then cerulean quickly showed up in the collections of eight different designers. And then it, uh, filtered down through the department stores....It's sort of comical how you think you've made a choice that exempts you from the fashion industry when, in fact, you're wearing the sweater that was selected for you by the people in this room from a pile of stuff." Even if you are not following the looks that show up on the runway every season you will inadvertently end up wearing clothing inspired by haute couture.
Every season I see trends that seem so out-there, and some designer always comes up with a way to translate this to the real world. This season there are many trends that can easily fit your lifestyle. Here are some of my favorites:
1. Polka Dots
Yves Saint Laurent, Diane von Furstenburg, Marc Jacobs and Gucci (just to name a few) showcased polka dots in their collections this fall. The picture on the left is YSL, and I think the shape and the patent detailing would make this a little impractical. The second dress (Kate Spade from Neiman Marcus) would fit most body types, is subtle but still fun and girly, and could be worn for multiple occasions.
2. Maxi Skirts
The maxi skirt showed up in many collections. This season's maxi skirt is conservative and comfortable but still sexy. The look from Tracy Reese is so boho and the colors are wonderful, bhere is a lot going on here. I think the outfit in the second picture would be easier to wear. It can be found in the Victoria's Secret catalog, believe it or not. I would add a fun necklace, earrings or bangle.
3. Oxford Wedges
The footwear this season is sky-high wedges with a masculine feel. Jill Sander dressed all of her models in feminine clothing and chunky heels. The patent leather is a little too much for me, but the taupe suede Pura Wedge by Dolce Vita could be worn with everything. The price tag is also more to my liking coming in at a fairly reasonable $89 while the pair by Jill Sander is closer to $700. These also come in black.




4. Bright-colored Pants
Pants of every shape were spotted in super-saturated hues. Although I love the color of the pants from Karen Walker (left), I'm not sure about the drawstring. Kim Kardashian's outfit uses similar pieces (a blazer, solid-colored shirt, chunky black heels) and looks more appropriate for everyday wear. The J Brand pants come in a rainbow of colors.


5. Leather Skirts
This past February I did some damage out at the outlets. As I was walking to the cash register at Loft, I saw a gorgeous black leather skirt. I decided to take a peek. Low and behold this was the last one, in my size and $7! Since then it has hung in my closet because I had no idea what to wear with it. I was pleasantly surprised to see this look for Fall. The skirt from the runway is part of the Organic by John Patrick collection. It is a little long, and the sweater makes it look kind of frumpy. The skirt on the right is by Vince and looks very ladylike while still being relaxed. I would wear it with textured black tights, the Oxford Wedges (see above) and quirky jewelry. This would be great for our anniversary dinner next month!
6. Long Layered Necklaces
I love jewelry! For Fall I'm all about the long layered necklaces. Chanel did it best with their Paris-Byzance Ready-to-Wear collection. I want the headpiece, too. The necklace from Chico's has the same feel as the Chanel one especially with the blazer. I'm going to hunt down a headband to go with it.
7. Python Bags
Tons of designers had python handbags in their collections. I've never really liked this look before, but for some reason this season is different. The bag on the left is from Valentino and I cannot even begin to guess how much it would cost. If you have to "request the price," you probably can't afford it. It is amazing and could be worn with everything. If I had the money this would be my go-to bag. The Kate Spade bag on the right is strikingly similar with the bonus of the cross body strap. Being that it is python the price is still too high for me, but I found many python-print leather bags that would fit my budget.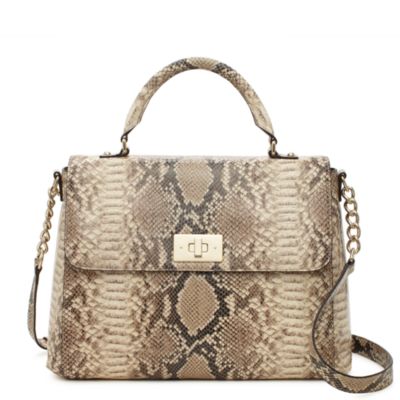 8. Nail Polish
I find that most of the nail polish looks from the runway are simply not practical. The same can be said for this season. However, I did find some colors that would be perfect. Maroon, mauve, eggplant and metallic polishes were everywhere. The textures were a little extreme. I buy Zoya polish all the time, and was excited to see that many designers used the brand on their models. My favorite trend for the season was at GUiSHEM. Nails were painted in Lael with one nail on each hand in Goldie. LOVE!!
There are several Fall trends that do not work for me but might be perfect for some of you: Chic ponchos, high slits and graphic tartan prints are all the rage. The runway can provide inspiration if you can find a way to make the latest trend fit your lifestyle, but remember that eventually you'll be buying clothing that reflects the styles of Fashion Week. Don't take my word for it. Just ask Miranda Priestly.