There are SO many amazing things that have caught my eye lately! I love the holidays and live for a reason to add color and sparkle to my life. I know I have a tendency to be over-the-top, but my philosophy is "Go big or go home." Here are some of the season's best sparkly, colorful things. Let's celebrate!!
Kate Spade Charm Heels
Fred Flare Jumbo Cocktail Ring
OPI Rainbow Connection from The Muppets Collection
Old Navy Collarless Wool-Blend Coat
J.CREW Glimmer Long-sleeve tee
Abi Ferrin "Nikki" 5-Way Dress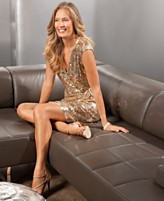 Macy's Sequined Dress
What will you be wearing this holiday season?